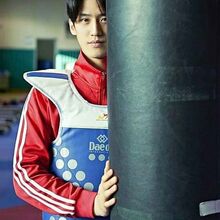 LOOK AT THESE PICTURES
WONDER WHO MY FAVORITE TAEKWONDO ATHLETE IS
HE'S MY PROFILE PICTURE TOO
HE'S AWESOME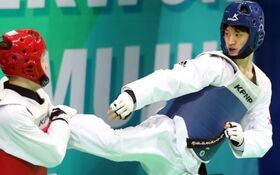 Samurai's theme song Edit
The world is smaller
Seconds are longer
Embraces reach farther
Hands hold harder
Eyes are bigger
Clearer we see
And this is how we find out what we're made of
The hero in your heart
Can never leave your side
The hero in your heart
Will never leave your side
Locked within right until that moment you give up
The hero in your heart
Now this is where you find out what you're made of
The hero in your heart will never leave your side
Locked within right until that moment you give up
The hero in your heart never leaves your side
I bet you didn't know
The hero in your heart has strength beyond the known
Strength beyond the known
It never leaves your side
You're the hero in your heart
- Two Steps From Hell, The Hero In Your Heart
Samurai's Taekwondo Theme Songs Edit
"I Love You Forever" by Two Steps From Hell (TSFH)
"Miracles" by TSFH
"Men of Honor" by TSFH
"Beneath the Starry Skies" by Really Slow Motion
"Reunion" by Peter Roe
"Heart" by TSFH
"Ironheart" by TSFH
"Majestic" by Mark Petrie
"Protectors of the Earth" by TSFH
"Unbroken Spirit" by Thunderstep Music
"To Glory" by TSFH
"Strength of a Thousand Men" by TSFH
All of these songs characterize the courage, strength, grief, and happiness I've known throughout my taekwondo career.
HERE ARE SOME LEE DAE-HOON HIGHLIGHTS. WATCH THEM. I COMMAND YOU. Edit
https://www.youtube.com/watch?v=lzkNuxwE000
https://www.youtube.com/watch?v=6_Dnyy-9db4
https://www.youtube.com/watch?v=4EhN97zFhgk
https://www.youtube.com/watch?v=9e_8EDzm54A
https://www.youtube.com/watch?v=M6Cpes6UnWA
"If you don't fail, if you don't learn, you will never be ready for greatness, because you'll never get there. If you give up when things get difficult, the moment something doesn't come easy, you are never going to make it. Accept failure, learn from it, use it as your power, and keep trying. Never, ever give up, because the moment you do, you'll regret it more than anything."
"I strive to become a warrior, to take a step towards my greatness every day. The journey to greatness is a journey of many steps, many thousands of steps, a journey that takes many years. But those with the perseverance to make the journey will succeed. They will not reach the end, for taekwondo is a journey with no end . . . but they will acquire greatness along the way."
"SPARRING IS FUN."
"A heart of joy will put many stars into a dark sky."
"I hope you all find as much happiness as I have, and remember: every day, choose to be happy. Choose to truly live, to smile, to cherish the gift that is life. You only life once. Make life amazing."
Ad blocker interference detected!
Wikia is a free-to-use site that makes money from advertising. We have a modified experience for viewers using ad blockers

Wikia is not accessible if you've made further modifications. Remove the custom ad blocker rule(s) and the page will load as expected.