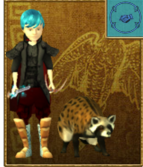 LokiClever11, AKA Loki, AKA Lakael, is a member of many forums on Scholastic, mostly Spirit Animals.
Loki's first post was on April 14, 2014.
Loki is quite calm in arguments and is sometimes attacked due to his gender identity. He has been on the forums longer than many others. He is an activist and lets no racist, sexist, or homophobic comment go. He is known to be a fan of too many fandoms than some think possible.
Ad blocker interference detected!
Wikia is a free-to-use site that makes money from advertising. We have a modified experience for viewers using ad blockers

Wikia is not accessible if you've made further modifications. Remove the custom ad blocker rule(s) and the page will load as expected.