Ivory
, or Ivorydusk16, is a popular fluffeh SAMBer, who is also known for being an avid shipper - or rather, Shipping Master . Ivory's first post was on April 14, 2014, and she is the second-in-command of
Night Clan
, after
Cen
. Ivory also had two text-fade shops, but they eventually died out due to lack of customers. Ivory is inactive on the
SAMB,
though she is active on
Quotev
. She also plays
Tombquest
. Her name is Safiya Fateweaver - go raid her tomb! She'll be happy to raid your tomb as well if you ask.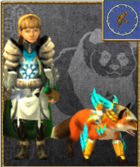 She is one of The Yzarcs, a family in which she is twins with Moon. Ivory is an awesome and helpful friend.
Ivory is also part of one of the MB's more well-known ships, Noxory, along with Nox. Ivory does not approve of Noxory, not that that changes anything. (She rejects their true love connection-)
Furniture
Edit
She is a coffee table with really nice cactus plants and a pretty wallpaper to match. Her profile picture right now is the best out of all the other profile pictures. The coffee table is LITERALLY GOALS. ✌️
*she is currently an anime girl but plans to change back to the coffee table after a week*
"IT'S STUCK AT KITTY LEVEL"
"DO IT AND BECOME A GENDERBENT CRAZY CAT LADY"