Hydra is a SAMBer who is mainly inactive. His first post was on October 23rd 2013.
He isn't quite famous but he's quite old and has known quite of few of them.
His account name is Hydrabloodhound33. He is an avid video game player and is happy to talk about anything. He is shipped with Yellow, making the ship Yedra. He can be found on Quotev and Instagram. He doesn't have much real importance on the forums, just being there, is what he does, there to comfort or to talk. 
I'll update this as soon as I know how whoops.
Quotev: quotev.com/shadowhydra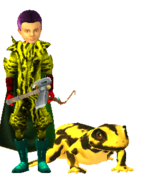 Instagram: cynicalshade
Email: surfer.kangaroo@gmail.com
Tumblr: hydrabloodhound33