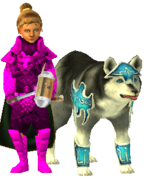 Azoth Quicksilver Saryn-Hope Desitjo,
or TigerBlue1523, is a SAMBer who has diabetes. She joined on May 4, 2014.
Azoth
, or Azzy-chan, created the
Desitjo
MB family.
She ships herself with Donte, one of her gang members.
Her name was previously Skeleton, and then Blue, but changed to Azoth in late August/early September. Azoth is fascinated by space-time converters which has resulted in several mistakes that altered her past. Her brother is Grimbo.
While being on SA, she has made a Quotev account and can be found there occasionally.
She went inactive officially on July 28th, 2016.
"No WAAAAYYYYYY! Really?!"
"Suck them. Suck them all. I'ma GONNA SUCK THEM ALL!"
"What a time to be dead."
"You see, I'm easily distracted - Whoa! Look at that virginity!"
"My grades aren't that bad. It was that math test where I got a 0 that's the problem. I like 0. A nice, round number.."
"I like Cheetos"
"This time, I'm really gonna do it"