Amythest, or Amy, is a WoFMBer.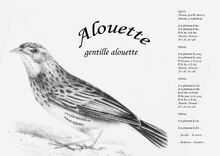 She joined on January 11, 2016, and as of the writing of this post, is relatively active. Her account is Dragonaqua2050. Amythest is the Queen of Alouettes, Plucking, and Creepy OCs.
Amy is a part of the Forum Wide RP ML. Her character is called Alicia in her civilian form. She's 15, and is rather thin, with long legs and arms. She has longish light brown hair that is usually in a braid. Her eyes are a light amber. She has unnaturally pale skin and a smattering of freckles. Alicia could be called rather creepy-she is often seen staring at random people or things, but she is actually quite nice. She has a great sense of humor, and she loves randomness. She has a habit of drinking coffee at midnight--though only with a ton of sugar. She hates tea and doesn't get what the big deal is about anime. She loves shipping and technology, and absolutely hates exercise of any sort.
As a superhero, Alicia is more calm, reserved, and positive. She is a lot creepier though, she will do really strange things like plucking others. Alicia goes by Alouette as a superhero. When Alicia becomes Alouette, she gets random alouette powers. A feather pattern appears on her arms and magical feathers stick out of her hair. She magically dons a cape with some feathers hanging off it, and has nice boots and gloves. She has jumbo eyebrow plucker, except she uses it for plucking feathers and hair, and the blades are deadly sharp. The clipper itself is gray with feather designs. She has extended jumps and can screech really loudly. She can also run faster, although not without consequence. Like all heroes in the ML Universe, Allouette has a power unique to her. It's called Pluck, it can basically pluck anything, no matter how far away, and bring it to her. For some reason it does not work on coffee or sugar, much to her disappointment. She has a cake loving lark kwami named Izzy who grants Alicica powers. When Izzy is in her miraculous, it is a golden pin with a flying alouette, when she's out, it's silver and the allouette is shown perching.
"GAAAASP
UNIQUE YOU DID NOT INFORM US OF YOUR PREGNANCY

HOW OLD ARE THE CHILDREN?"
"*is bored and wants to pluck someone*"
"IT'S THE CITY OF SHIPPING AND ALOUETTES AND MEMES. LET'S STAY HERE FOREVER!"
Ad blocker interference detected!
Wikia is a free-to-use site that makes money from advertising. We have a modified experience for viewers using ad blockers

Wikia is not accessible if you've made further modifications. Remove the custom ad blocker rule(s) and the page will load as expected.